05 août 2008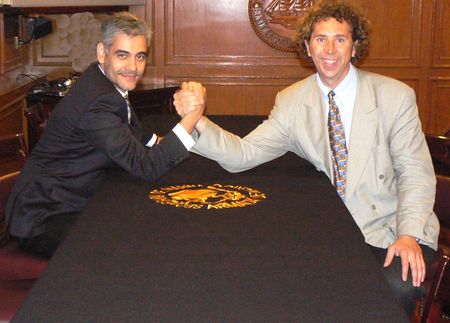 Which circumstances made you enter the world of doubles?
Quelles sont les circonstances qui ont déclenchées ton entrée dans le monde des sosies ?
The destiny, the chance, a moment in life, the public choice.
Le destin, la chance, le hasard, le choix du public.
How long have you been living in the world of doubles?
Depuis quand vis-tu dans le monde des sosies ?
End of 2007.
How did you work on your character? Which contacts have been necessary, did you make any researches, what type? Tell us!
Comment as-tu travaillé ton personnage ? Quels ont été les contacts nécessaires à prendre, les recherches à faire…expliques-nous ?
At the begining I did not do anything. I even did not know anything about George Clooney. And I am not sure if I still do, since George is so discreet and we can not find too much information about him. Those we can find inside the internet are most of the time speculation about him or basically information about the character he plays in his films, not really himself.
Most of the research have been done directly with the public, because the public eyes is in reality what make us a lookalike. In fact, at the beginning there are not too much about us inside of it. At least in my case I was pushed into this, since I used to say "you are mad" to those who seriously stopped me to ask: "Excuse me, are you the actor George Clooney?"
Only in a second phase, when I was obligated to admit that a similarity exists, I started slowly to find more information about George Clooney's life.
Are you a perfectionist in the part you play as a double?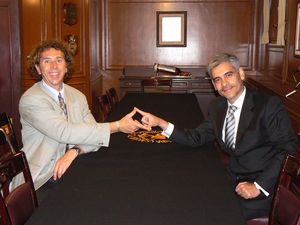 Es-tu perfectionniste dans ton rôle de sosie ?
The answer for that is, "No really". Just enough to create a professional lookalike career. Funny, isn't it?
Well, it is very comfortable when I see that I just need to brush my teeth, put on some gel in my hair, wear a nice suite and "bum" I look like George. Comparing it to many other lookalike who need a lot of wick and accessories I really most admit that it a chance, even if it is a responsibility too.
After many experiences about people reactions and opinions about what could eventually be considered perfection, I discovered that there are many "George Clooney" inside people eyes. For example. I show to a "A" person or a "A" group of people lots of my photos and ask he/she/them which of the photos is the perfect one. Let's say the "A" person/group say that a photo "1, 2, 5, " is perfect, exactly like George, and a photos "3, 4" not at all. Then, a little bit later, I show the same photos to another group of people that loves George and they say: "Uauu, photo 3 and 4 is the one, exactly like him, not really photo 1 and 2." You know what I mean? So, every person has one George Clooney in their mind. This kind of thing happened so many times that even myself started to loose a little bit a notion about what would be a perfect George Clooney.
In resume, there is not really a possibility to do something, as you said, "Perfect", since the concept of "Perfection" change in every human who see us and also according to every circumstances we are called to remind the original actor.
Have you had to have an agent? Is he / she your husband/wife or mate? Which relationship do you have?
A-t- il été nécessaire que tu ais un agent ? Est-ce ton conjoint ? Quelles sont vos relations ?
No agent, no spouse. The whole work was done alone, step-by-step at the beginning.
Then I had Fotogen, a agency in Zurich who brought me to make a shooting and a fashion show for L'Oreal.
I am play myself my "mother agency" for now. I am opened to work with any agency capable to generate high quality business in a first phase, until I find the sensitive one to give it the "mother" status which will give it the right to represent me with international agencies around the world.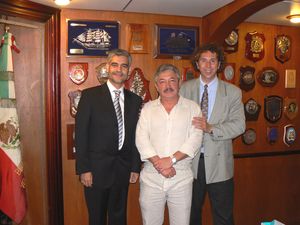 Has being a double, changed anything in your everyday life? What do your relatives, family and colleagues think of that?
Est-ce que cela a modifié ton quotidien ? Qu'en penses tes intimes, amis, famille et collègues ?
All my family is in Brazil, since I am originally from Brazil, even if I have also the Portuguese Nationality. I decided this time not to tell my family about this lookalike idea since the experience has demonstrated with other projects in the past that my ideas could better succeed with "my family" outside of my own family, if you can understand me.
So, that is what happened. Many great people, great friends, including my photographer, my make-up girl, my hairdresser and the public in general, all those people have collaborated enormously, as a family, for the development of this career.
Do you live at work and in town as a double?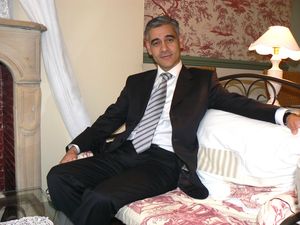 Vis-tu au boulot ou dans ta ville en sosie ? Pourquoi ?
You know, people switches us from ourselves to what they want or believe we are very fast and according to what goes in their mind. We don't have too much control about it.
Well, my job is pianist, model and George Clooney lookalike.
As pianist, when I play in private parties I see guest arriving and being shocked asking themselves: "What? George Clooney plays piano?". They use to tell me that at the end of the event. So they start to call me George. That is not me who wants to live as a lookalike. And the same is also true for the moment I do some fashion show. Even if the client engage ME as the model, the public automatically
make the association the want to.
But what is funny is when I walk on the street and those who saw me in the newspapers stop, look carefully in my face and say: "Well, you don't look too much like him". And I am forced to say.. "Hey.. That is me Pedro, not him.! Do you want me to look like him? Pay me! It is a service I can provide, just another extension of what I can do." It is so funny. The public loves us enough to alert us about the risk to loose our personality being someone else. They even give many examples of some lookalike who lost their mind because of the task, but at the same time, they want us to be 24 hours a day like the original one to consider and approve us as a good lookalike otherwise we are not good enough. You see?
How do live and feel when you're performing as a double?
Comment vis-tu quand tu es en représentation de ton personnage ?
I think of George Clooney as a human being and I put my attention more on his behavior than his appearance. There are a lot of expectation from the public over us. And if me, living a reality far away of George's reality, I can see and experiment the rapid waves of public imagination, illusions, expectations, dreams, ideas, suggestions, comments, comparisons, etc... I imagine how hard it can be sometimes for George to be himself and that is the moment I feel a little bit connected to him, I feel admiration and the responsibility and I thanks God for this opportunity while I take it with the calm, love and respect required to take this challenge further.
What good memories do you have with your fans?
Quelles sont les bons souvenirs avec tes fans ?
Ohh there are many. Mainly the little "war" I create with them when I try to show they are getting mad first them I could eventually do with the lookalike things.
Of course there is also the photos mistakes, when they took George as me or vice-versa.
But the best souvenir are the multiple encouragements I have received from those with good heart who made me believe, in my insecurity moment, that I CAN.
Has your opinion about the original you're the double of changed since you've been representing him/her?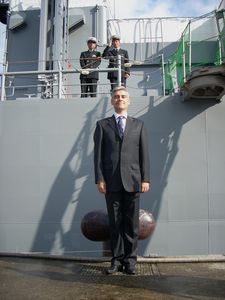 Ton regard a-t-il changé à l'égard de l'original, depuis que tu le représentes ?
Sure. Because we can understand more.
Have you had the opportunity of meeting your hero, on which occasion? Are you still in touch?
As-tu eu l'occasion de rencontrer ton héros ? Comment cela s'est-il passé ? Gardes-tu des contacts ?
I believe that every lookalike imagined, one moment or another, how would be, let's say: "The meeting day". I use to say..."Better than meeting with George Clooney is knowing what are his thoughts about lookalike". Does he like lookalike? If he does, the access will be easier, but if he does not, what else? Other times I think I am going to laugh a lot when I meet him, because I know what a lot of people imagine about what I was supposed to think in the meeting moment and how surprised I will be myself in case I feel nothing special because George Clooney is just another human being who goes to the toilet as I do. ka ka ka ka". I am sure this thinking will put me very comfortable in front of him. What frights me is not meeting George Clooney, but "the power of now". Because the power of NOW is so powerful, isn't it?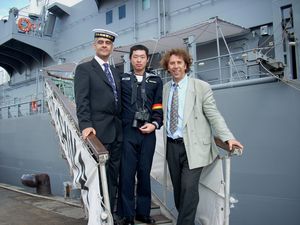 Have you noticed any similarities in your lives? What do you think?
As-tu décelé des ressemblances dans vos vies respectives entre l'original que tu représentes et toi-même ? Qu'en penses-tu ?
Representing George Clooney is a challenge and a responsibility for me, since he is not just a famous celebrity but he is admired by most of the public by his way of thinking and behavior including his efforts for humanitarian causes. I also like and did many volunteer works for humanitarian causes as well. Even if I still did not meet him to check the precision of my intuitions, I feel that we both have many common points, mainly in the way of thinking. For example, we have both tried marriage and divorce but keeping ourselves into single status. We have similar clothes since my career as pianist forces me also to be into let's say "Casinos" clothes. But the most similar point for me is the fact that even if life forces us to talk we are both in reality shy and reserved.
Have you ever fooled people with your resemblance? Come on, tell us!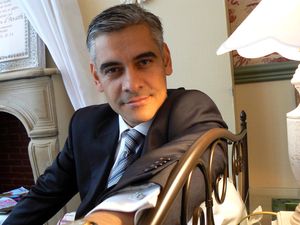 As-tu déjà bluffé avec ta ressemblance ? Allez, vas-y…
Sure, of course. Mainly when I saw the result of our first photo session. There were so many similarity in the photos and most of the photos were so perfect and good quality that almost the entire shooting was useful. Grégory Maillot, a remarkable photographer and a friend who has shot most of my pictures until today, Lara Broillet who created my first make-up as well Isabelle Munafo the hairdresser, all the team was so impressed telling me during and after the photo session that my similarity with George is so huge that sometimes they believed being really with him. I was really impressed because at that point they would not really need to make any compliment. So, these and other events, such as people stopping me on the street to ask me if I am the actor, convinced me slowly to accept inside myself the possibility to get into a lookalike life.
Have you got a little secret you would like to share with us? A secret hobby?
As-tu un petit secret, que tu pourrais aimablement nous délivrer, une passion secrète ?
Humm..!! Yes I do. I laugh inside of me and I usually think people are crazy when they advise me to take care and not loose my personality and become crazy being lookalike without even investigate about the love I have for myself. Sure we can not ignore the possibility to become crazy. But sometimes I see some people starting loosing their mind and personality first they I could eventually do simply imagining me.
What is your opinion about your career as a double ?
Quel regard portes-tu sur ta carrière de sosie ?
A TOY. Because we can play with it.
A COMEDY. Because most of people can not understand it well until they are themselves a professional lookalike .
A RESPONSIBILITY. George Clooney is somewhere there man. And if I was really him?
A THERAPY. Because it is relaxing
A CAREER. Because we can make some money with it.
A RISK. Because the Media and the public are out there to put you up or down.
A SCIENCE. Because we discovered a lot about ourselves and others
And at the end NOTHING. Because none of us invented all that. Life is short and lookalike is an illusion life provides and we, lookalike, give ourselves the right to have.
How far, geographically speaking, did you go to perform? ….Tell us…
Jusqu'où géographiquement es-tu allé pour te produire…racontes…
Geneva, France (Paris, Rouen..etc), Zurich and soon New York, Portugal and Brazil.
Have you had the opportunity of meeting stars? What exchanges did you have with them?
As-tu côtoyé des stars ? Quels sont les échanges que vous avez eu ?
I am against any kind of fanaticism... Well. Maybe I am fanatic for this idea. hehe :)
However, I have some stars I admire, but not as "idols". I like their way of thinking and I admire the work they do, not only related to art itself, but related to life and the world themselves.
Any celebrity who defends (with work and sincerity, not only to show the media) has my admiration.
I like very much the personality of Nicolas Cage, Meryl Streep, Whoppi Goldeberg, Al Pacino, Susan Sharandon, Jessica Lange and many others. Sometimes I ask myself if I am not in love with the characters they did, not really themselves, since there are more to know about them besides what we believe we know about them.
However, if you talk about exchanges we can have, I can imagine many in different moment of life. Look at this: When I was kid I admired a lot a Brazilian singer called "Simone Bittencourd de Oliveira" (Only Simone for the public). And I was so attached to her, that one day and I crossed all the crowd that was in front of the hotel she was in, I walked direct to the reception ready to say: "I want to talk to Simone!". By coincidence she just left the elevator and went to the reception. And I asked her if she could take me into the backstage with her. And she made an appointment with me at the main door of the club where the show would take place. The moment she crossed with her body guards all the crowd to get into the club, I called her name believing that she was going to forget me. And she took my hand very close to her and took me with along all the way and I stayed there next to her all the time she put on make-up before the show. The day after all the city talked about me and I loved it.
Have you ever been on TV shows? How did it go on?
Es-tu allé sur des plateaux télés ? Comment cela s'est-il passé ?
Well. I appeared on TV in Brazil, but not on a TV stage as you say. "Qui sera le meilleur sosie?" TF1 was the first time I put my feet on a TV stage in Europe. It was an experience and I had the chance to meet other people who share the same career.
However, I have been interviewed and appeared in 3 newspapers (20 minutes, Le Matin, and Tribune de Geneve) in the French and German part of Switzerland, as well shot with Meike (Claudia Schiffer lookalike from Germany) for catalogs of Gamma a great furniture store in Switzerland.
Have you performed in films? What are your impressions?
As-tu tourné dans des films ? Quelles sont tes impressions ?
Not yet, soon.
Do you work with other doubles?
Travailles-tu avec d'autres sosies ?
Yes!
Do you make tours? How do you get organised? Do you make tours with other doubles?
Fais-tu des tournées ? Comment t'organises-tu ? C'est avec d'autres sosies ?
Yes we do. A group of 5 other lookalike celebrities and I have a personalized service we offer for private parties and companies events. We are capable to answer to exotic demands to fulfill all tastes.
What advice would you give to someone landing on « Sosyland » ?
Quels conseils donnerais-tu à quelqu'un qui atterrit à Sosyland ?
Do like I do, be yourself.
What is your opinion about « Sosyland » ?
Quel regard tu portes à l'égard de Sosyland ?
An effort, a door, an alternative for expression, a potential.
Is there anything you would particularly like to say ?
As-tu quelque chose que tu souhaiterais dire particulièrement….
A big thanks for existing and thinking about me.
When is your next performance ?
As-tu une prestation prochaine à nous transmettre ?
In Switzerland we fix dates a long time in advance. The agenda is quite busy, I have some piano concerts already booked for Social Institutions in Geneva.
As lookalike... well. People like to engage me and make it a suspense to attract people and I don't want to betrayal them, but I can say that in September there is a great luxury event that will take place in Geneva where I will be present as a "surprise". And believe. It will be plenty of women. So, I can not tell you more details.
I will be present in 3 other big night events (Zurich, Bern and Lucern) in October.
There is also an invitation to be the pianist and eventually George Clooney lookalike for the USA President Election Night organized by the American International Club of Geneva in November.
Let's see what life will bring next.
Have you ever made anything artistically speaking so far, a record, a film…
As-tu réalisé quelque chose d'artistique comme un disque, un film… ?
I will also participate in 2 films still this year.
A DVD will certainly come out too one of those days.
What is your experience of being at « Qui sera le meilleur sosie ? »
Que retires-tu d'avoir été à l'émission de « Qui sera le meilleur sosie ? »
Contacts and a better notion on how TV shows are in reality.
Your website and to contact you:
Ton site et comment te contacter :
info@pedrobarbosa.com
+41 (0)22 548 3538
Your country :
Ta région et ton département :
Geneva - Switzerland
I thank you very much and wish you all the best in Sosyland !
Je te remercie et te souhaites tous mes voeux à Sosyland !
Commentaires sur Pedro is look a like of Georges Clooney